It's Sept. 5, which means it's 1 month until the calendar says Oct. 5...the same day I
hopefully
accomplish that insane task that just 2 years ago I said I'd never do--run a marathon. In one month it will be just after 7:30AM CST and I will be on my way to the start line of the Milwaukee Lakefront Marathon...to run hard for somewhere in the neighborhood of 4.5 hours.
This knowledge should freak me the heck out...but it really doesn't. I'm sure that will change as we pack up the car to drive to Milwaukee the day before the race (more likely the minute I start my taper, heh), but for now I'm feeling more relief and anticipation. Relief because I know that my training taper is less than 2 weeks away (and my knee is behaving pretty well) and anticipation because all signs point to my making it across the finish line in one piece (thanks again to the healing right knee...and my first 20 miler that went much better than expected).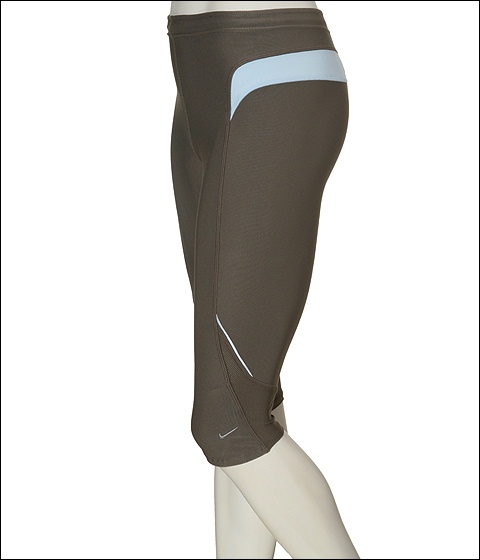 Yesterday I received the next larger size of the half-length Nike tights I had ordered in the event of a cooler weather race. They fit better than the original pair I had ordered...but had a small area of defective unstitched seam, so back they go. I really hope they will exchange them fast--I'd like to get in at least one longish run before race day, just to make sure that there are no fit/function issues. I ordered them directly from Nike...and they are none too fast with their shipping, unfortunately.
The tights are really nice...they have a small zip pocket along the lumbar area.  I won't buy any running bottoms that don't have some sort of secure pocket generous enough to hold my inhaler and cell phone.  The length is perfect, too.  Great for runs when it's a bit too warm for 3/4 tights, but too cool for a skirt.
Along with the tights I purchased the coordinating long-sleeve top...it's a soft blue and the most amazing material.  It feels like those stretchy Barely There panties.  Super light and silky nylon microfiber.  I kind of hope it's a bit cool for race day, since the top and tights feel almost like PJs, they are so comfy.  And I STILL can't get that damned silicone stain out of my new RunningSkirts.com skirt.  Gah, makes me so mad.  I dropped a note to the company to ask for removal suggestions and they had none--no one has ever had staining issues.  Just figures that I'd run into that issue the very first time I wear the danged skirt.  Bah.  Now I have a $48 piece of running apparel that looks peed-on.  So I'd really rather wear something that isn't going to make me look incontinent on race pics--since I will probably order an official race photo for the first time! :p
Yesterday I had a really nice 5 mile run in the rain with my local friend, Joni.  2 days prior we had the warmest day of '08, but yesterday was a good 30º cooler.  It had been so long since I'd run on a cool, rainy day (and with a jacket on).  It was pretty invigorating and we had a fantastic time bombing through some pretty deep puddles.  By the time I got home I was pruney and had squishy shoes.  It was fabulous!