That's how old I am.  Yesterday marked the 36th anniversary of my mom becoming, well, a mom.  Last night she called me to wish me a happy birthday and to ask how in the heck she has a 36 year old child, already.  To which I commiserated with "how in the world do I have an 8 year old child (and she an 8 year old grandchild)?"
In observance of my birthday my back decided to flake-out.  Well, I think it actually started giving me problems a couple of nights ago, but yesterday was definitely the worst.  I originally had some weird spasms in my left hip a few days ago that found their way into my lower back yesterday.  I blame the back machine at the gym (that stupid thing is my nemesis and I think I need to stick to planks and other simple back strengthening exercises that involve no use of supplemental resistance) and doing a gym workout the day after a challenging trail race, instead of wisely doing an easy recovery run to let my muscles rest and loosen-up.  Yesterday I got in a 5 miler, which perhaps made things worse.
But doing something reasonable isn't really my style.  Plus I really don't know how to handle back issues.  I rarely encounter them (fortunately--I have several close friends who deal with chronic back issues...my best friend's are the result of being thrown from a horse years ago.  She also runs), so instinct is to curl up with a heating pad and NSAIDs at night, then try to keep things loose during the day by staying active.
So today I went out and ran 14 miles (was supposed to be closer to 13, but I underestimated the distance on the route I created on the fly).  It wasn't entirely pleasant and my back felt very stiff and "off" for the duration of the run (as did everything else, since I know it messed with my gait and posture), but sitting here right now it feels the best it has in days, so that's nice.  And I have that warm-fuzzy runner's high feeling of accomplishment.  Today's run was the longest distance I have logged since my marathon W...A...Y back in early Oct.  I had been kind of dreading this run, since I've maxed out at 10-11 miles for all these months.
I already found a use for my birthday money from various family.  I've been wearing a garish pea green Columbia 3-in-1 type parka for over 4 years and have finally had it with the dumb thing.  A few weeks ago I accidentally (some would say that there are no accidents--in this case they would likely be correct) left it at the gym overnight and had sincerely hoped someone would make off with it...no such luck.

It wasn't really a "bad" coat...the color was kind of fun, really, and it always kept me very warm.  But the whole "interchange" thing was really a pain, since I never actually used the separate pieces.  And the zipper had become increasingly crotchety.  Plus the seams on the insides of the arms were wearing...I think they were more cosmetic than anything, but the coat had really started to be one of those wardrobe items that was strictly functional.  Not something I could wear to a dressier event, either (not that we ever attend such functions, but still).
So for the last month or so I've really looked at all the Winter outerwear clearance sales with dreamy eyes.  *sigh*  But even on clearance a good Winter coat will run at least $100.  I bought my Columbia jacket from Cabela's during some sort of half-price deal and I recall it running about $100 and thinking I nabbed a steal--but it seems like I was the one who got robbed.  This is my 4th Columbia jacket in about the past 20+ years and their quality has definitely gone downhill.  Used to be that Columbia jackets were only available from quality ski and sporting goods stores and rarely were offered at any significant discount, but nowadays they can be purchased at Wal-Mart and Meijer and the racks at TJ Maxx are full of them at drastic discounts.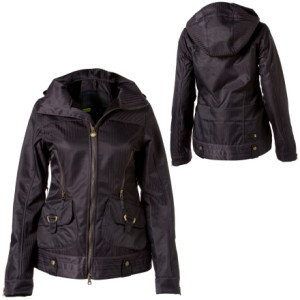 So I looked around online to see what I could purchase for ~$100-150 and wasn't having much luck...what I found in my size was often in brown or pastels.  The stuff I liked was generally only available in XS or S or WAY beyond my budget.  I had nearly given up looking and decided to wait another year and continue battling my defective zipper for another Winter...when I found this beautiful
Burton "Journey" jacket
.  It's from their "B" line of outerwear, which is more fashion-oriented than for snowboarding.  Looks like it is a good deal less bulky and more figure flattering than my current coat, too, but still very warm and functional.
Plus it's more neutral and not quite so "sporty" looking, so I can wear it for casual, dress, or sledding with the monkey.  Regular price was $250, but I nabbed it for $150.  Seems like a nice bargain and the styling isn't so trendy that I will feel like it's "dated" in a couple of years (I try to get at least 5 seasons out of a piece of outerwear).  So many of those cute puffy jackets and quilted ones seem a bit too "2008."
In addition to the coat "gift," hubby and son purchased me a nice 8# medicine ball (which is really awesome for indoor "cat bowling"), which has me thinking that eventually I should get my hands on a Cathe Friedrich "Bootcamp" DVD (that would certainly whip my back into shape).  The cats "gave" me a new yoga ball, since one of them punctured my last one.
:p