AKA another school holiday that kind of messes with my routine for a week. But it's not so bad. Tonite I had a 6 miler on the agenda, so my guys hopped on the "ditch-seeking steering" resale shop tandem and crept along beside me. Nice way to spend an hour of quality family time.
Yesterday I enjoyed nearly 30 wind-swept miles on my bike. These windy rides are tough, but they add an extra challenge, which will make me stronger/faster on duathlon race day--in less than 3 weeks. Plus coming home was fun...I had one 20mph mile in there. That was exhilarating. Even with the wind at my back while running I don't know that I've ever hit much faster than a 9:15 pace, except during a race. And that 20mph bit on the bike took almost nothing out of me.
That's one thing I'm really enjoying about the cycling. It doesn't really seem to be hurting my running, but for the same # of training hours I am feeling much less beat up than if I were logging 9-11 hours strictly on-foot. I'm really looking forward to training for my first century ride in mid-July. I already know that I could go half that far without stressing my body all that much. Well, except maybe my butt. I'm still toughening up those ol' sit bones.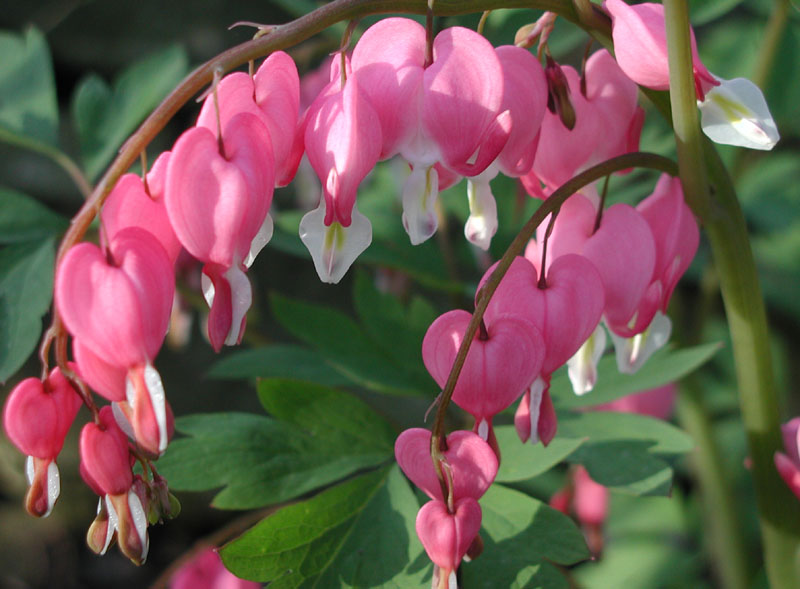 Tomorrow is a rest day and we're supposed to have T-storms on-and-off all day, so DH and I are planning to hit an awesome garden center nearby to find a few things to plant in the yard. It took about 8 years of living here to really find what actually grows well in our heavily-shaded (and deer-infested...I think we should give up on our hosta "appetizers," but DH wants to keep fighting the long-legged rats with roadkill-scented
Plantskydd
) yard: bleeding hearts, myrtle, and spotted dead nettle (sounds horribly ugly, but is beautiful...pretty foliage and flowers in pink and lavender).
The bleeding hearts are gorgeous for maybe a month, then they die back. I'm hoping we can get the myrtle and nettle (that's it, over to the right) to fill in, since those ground-covers always look pretty and don't seem to choke-out other plants.
The next house we buy HAS to have a better variety of lighting conditions (and, perhaps, no roving band of a dozen or more deer). I like the few things we can seem to grow, but I would REALLY like to be able to grow a bigger variety of flowery things (like roses, lilacs, and hydrangeas), as well as a butterfly/hummingbird garden. We dumped a lot of money into azaleas and rhododendrons a few years back, but our conditions are too shady for even those. They can tolerate some shade, but we have some pretty heavy shade in the form of Oaks and Maples. I'd love to see several of these trees gone (they have a tendency to drop large branches during windstorms...or sometimes just because they're old), but that's no cheap proposition, either. We'd probably save money by simply moving, heh.