In general I am not a big fan of dressing up. It's a PITA and wastes a lot of time (and often money). But the hubby's 20 year class reunion is in just over a month and it recently occurred to me that I really have nothing to wear. When I lost weight I got rid of all of my fat dressy clothes. I bought a few items when I was down at my lowest weight, but regained 20#s in short order, so have resorted to black pants and a top for pretty much every other non-jeans occasion in recent years. It appears that the reunion will be dressy casual, though, so a dress of some sort is in order. Ack.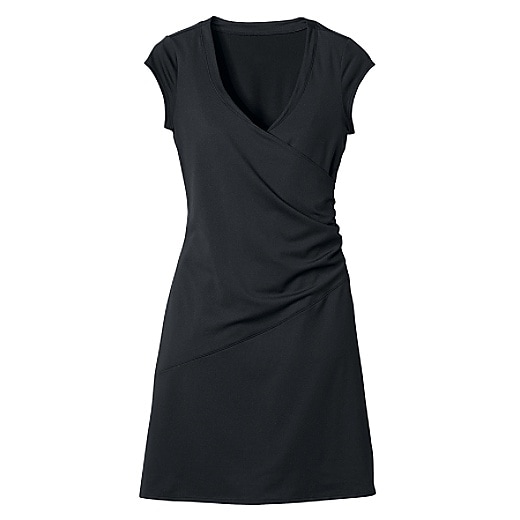 I looked around a bit and think I will order this little number from Athleta. Reviews are generally very good and I like that it's machine-washable and wrinkle-free. I could also wear it just as easily with casual sandals as I could heels, or add a cardigan for extra warmth in the Winter. A nice wardrobe staple for under $60.
But, shoes...there's another conundrum. I don't really have anything other than my Keen sandals, Dansko clogs, and running shoes. Hmmm... I had thought of getting a simple pair of black sandals with a small heel, but several friends talked me into adding color. And I do like color. They also raved about wedges, though normally anything with a heel more than about 2" freaks me out. I have a pair of heels that are 2.5 or 3" and I have never left the house in them, since I feel like I'm walking around on tippy-toe and my wide forefoot gets crammed into the front of the shoe. Just standing for 30 seconds is uncomfortable. Not to mention I am a klutz (daughter of the woman who currently has a broken neck and in the past 10 years has also had a broken foot and a broken arm...I come by my lack of grace honestly), so I don't need to add unstable footwear to the mix.
I ended up snagging these for a good price on Overstock.com. The heel is not overly tall and my wide feet won't be compressed by straps or narrow toes. They should look acceptable with jeans or pants, too. Woot!
The last remaining part of my ensemble...jewelry. I'm generally pretty minimalist with this, too. I wear my wedding ring on my left hand, a white gold/mystic topaz ring on my right hand, and a stainless steel watch. I have simple earrings that I might change once/year, since I have super sensitive ears and so many styles cause me allergic reaction within an hour or two of putting them in. Even most hypo-allergenic styles cause trouble.
It seemed those flashy red shoes needed some matching counterparts, so off to Etsy to find some fun, inexpensive jewelry. Boy, is that site ever dangerous. Were I a major jewelry ho I'd be broke. I found several necklaces in sets with earrings and/or bracelets, but settled on this one.
I may have to replace the hooks on the earrings with silver, assuming they are some other random metal. Or I can wear them for an hour or two; at least until they start to bother me.
One of my best friends said she has a red patent-looking purse that would be perfect with this ensemble and that she is happy to lend it to me, so I won't have to go out and dump money into a purse I will likely only use once or twice. Though maybe I will see if I can find one for keeps, since I think I am going to get more than one wear out of this outfit. If the dress still fits me in a year (assuming I don't lose a few #s, though if I like the dress enough it would maybe be worth eventually investing in another one in a smaller size) there's a good chance I would wear it for my own 20 year reunion. Not like anyone would know the difference...our reunions are in different states.
I promise to post photos of me in the entire sassy getup after the reunion.