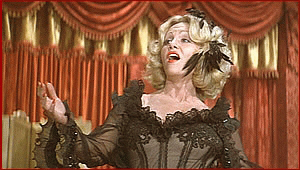 (thanks go to Madeline Kahn as "Lili Von Schtupp" in
Blazing Saddles
--aka
best comedy ever!
--for that timeless phrase in my regular lexicon)
Our miserable, unseasonably early heat-wave FINALLY broke last night. While I still didn't log a solid 8 hours of sleep (more like 6.5), I feel so much better today. I also did nothing yesterday. After a fairly brutal week of training and trail race I was really wiped-out. A rest day was welcome and necessary.
My "workout" consisted of driving to a small town near Grand Rapids to watch a criterium cycling race. Unfortunately it was cancelled just after the kids' race, due to lightning strikes nearby that were slowly moving towards the race course. Bummer. A friend of ours (who ran/biked the duathlon with me) was ready to compete in this event. I have never had a race cancelled, but it has to be a horrible let-down after spending days being anxious and excited to race.
I am looking forward to running 9 miles with one of my trail relay teammates tonite. We're going to plod along the bike path (multi-use path is more accurate...I hate biking on it. Too crowded in many sections and too many cross-streets that require stopping) and enjoy the more pleasant weather.
Tomorrow the hubby and I are planning to do my first metric century (aka 62 miles) ride in continued gorgeous weather. Should be fun...I mean, as long as my butt doesn't go on strike! Prior to heading out on our wheels we're attending a little music presentation in our son's class. I wonder if they would think it strange if we wear our spandexy goodness cycling kits?