I don't do well with gray areas. While I am not really a Type-A, inflexible person, at the same time I find that unknowns have a way of causing me undue stress. I've never been able to just "wing it" when it comes to training for races, since a lack of a reasonably concrete plan will invariably lead to me completely half-assing things and go into a major race undertrained. I may not be the fastest person on any race course, but I generally complete goal races with the knowledge that I put in the best training that I could, given life circumstances.
In less than 4 weeks I will be running the
Go St. Louis Half Marathon
with a bunch of friends from all over the US -- and even one friend from Canada -- and I feel like my training is going reasonably well. Reasonably well considering the stress and uncertainty of being in home-related Limbo (everyone keeps asking when we *move* and I can't give a date, even though we closed on our home more than 2 weeks ago. We can't change our mailing address, yet, either). 6 days after that race I'm running the inaugural
Gazelle Girls Half Marathon
, which will qualify me for the
Half Fanatics
.
Weight loss -- that's perhaps the biggest victim of recent events. Stress-eating and convenience-food-eating (while running back-and-forth between 2 homes 45 minutes apart, driving to-and-from
Girls On Track
practices 30 minutes away, and driving around doing furniture research) has been at an all-time high. I've regained ~5 of the 15#s I recently lost while rehabbing my busted wrist. Fuckity. One of the things I am most looking forward is having a fully functional kitchen and the time to plan and prepare healthy stuff, again. So many nights recently we've gotten home after 6 and scrounged-around for random, carb-laden crap. Not nearly enough fruits/veggies/salads.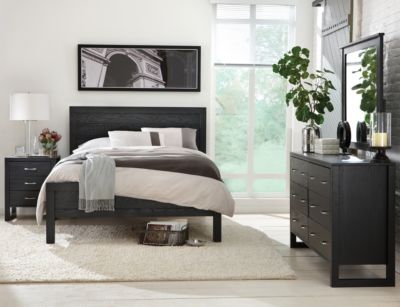 All this...plus a tall dresser, 2nd nightstand,
and underbed storage drawers
We have a bunch of stuff already moved into the new house (keepsakes, photos, art, books, small appliances), but not us or our furniture. Much of our current worn and 2nd-hand furnishings will be going into the basement "Pain Cave," so in some ways we're starting from scratch with this move -- because at 40 and 41 we're grown-ups...sorta.
In fact, we sort of jumped-the-gun and had scheduled to have our new bedroom furniture delivered in a week. The basement drywall & electrical will hopefully be finished, but not the flooring on the main floor. Unfortunately the builder/seller won't do final walk-through (to identify spots that need repainting, repair, tweaks) and clean-up until after those things are done, which will not be for a couple of weeks. We'd really hoped to have the major move done by April 1, but the official occupancy date now looks like it will be a week later (and the builder can't/won't clean and touch-up rooms with furniture). *sigh*
Which means we can't move before my St. Louis trip...and my first day back from the trip will involve sitting at the empty new house waiting for the bedroom furniture to be delivered, lugging mattresses and clothes over, and placing orders for other furnishings.
tween
boy and 3 cats would be insanity). It's not the exact sofa we had originally had our eyes on, but that one is a funky super-modern clearance center sofa that none of the stores actually stock for seeing in tangible form. Their policy on clearance center stuff is that all sales are final, so ordering it sight-unseen is not a risk we're willing to take on a $1300 sofa and giant ottoman. That orange leather sofa was really comfy and we're hoping the furniture store has that rug for sale, too (they don't show it on their website, unfortunately, but did have it in the store in the display). We're also looking at a Herman Miller (DH's employer...that employee discount is hella sweet and we both love mid-century modern decor/furniture) Noguchi table.
Note the carpeting at left in both the rooms to the right and left of the kitchen/dining area -- we're having that removed and replaced with more of the laminate. This is pretty much the main thing keeping us from moving right away. I know it will be worth it to have everything exactly to our specs when we physically move, but it's hard to be patient when we just want to be settled in the new place. DS's teachers have said that the uncertainty has had an effect on him, too. He's stressed about things at school, and had one rough day when he was paranoid that someone was going to buy the house out from under us (I don't think he understood what it means to have "closed" on a house, which we explained to him in better detail, once we learned of his nervousness). In the big picture this move is going to be a major benefit to him, since he'll be able to take the bus to high school (in a really fabulous district) in 2 years.
RELAXED
family dinner at our new sleek (and cat/kid-proof -- this is why we are buying nothing with fabric upholstery or wood. Glass and leather are much more resilient) Herman Miller "Baguette" dining table that we would pair with modern chrome-legged chairs of some sort (perhaps molded plywood/melamine from Ikea)...quite an upgrade from the hideous family cast-off colonial-style laminate monstrosity that we currently have with only 3/4 functional chairs. The question now is 60" or 80". 80" is almost certainly overkill...we don't really need seating for 8 + a 4-person bar. The only time we'd need that much seating would be during the holidays when my 'rents, siblings, SOs, and kids visit or during JDRF parties, but then we can supplement with a card table.
We'll be doing an Ikea trip in the near future, too, for storage items, window-coverings, and furniture for the rugrat's room.
Hopefully we can be fully furnished and settled-in before our planned Cinco de Mayo party. April's gonna go fast with 2 half marathons and the big move.